Project Profiles
Allstar Escrow Company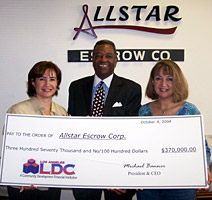 Making Latina Dreams Reality
LDC Finances Expansion of Local Escrow Company
Business Description: Allstar Escrow Company is a firm which provides escrow services to various real estate companies and single family mortgage lenders. The owners are sisters that have been in business 12 years and their gross sales have grown over 30% per year over the last three years.
Project Description: The project consists of the acquisition of mixed use two story office/residential building which is located in a commercial corridor in the City of Montobello. Allstar Escrow plans to relocate their escrow company to the second floor and retain the ground floor tenants and generate rental income by retaining two businesses (existing tenants). The building offers Allstar Escrow the ability expand in the future if necessary.
Project Address: 3331-3333 W. Beverly Blvd., .Montebello, CA 90640
Project Amount: $425,000
Credit Request: $370,800
Purpose: Loan proceeds will be used to provide the permanent financing of a 2 story, 1,995 sq. ft. office building with parking for 7 vehicles.
Interest Rate: Rate will be fixed at 10 Year Treasury Note plus 3.875%.
Repayment: This loan will be fully amortized over 15 years.
Collateral: 1st and /or 2nd trust deed on commercial property located in Montebello, CA. Our loan to value is not to exceed 90% of appraised value.
Census Tract: #5302.02 - Poverty %: 10.85% - Minority %: 90.49%
Closing Date: December 2004